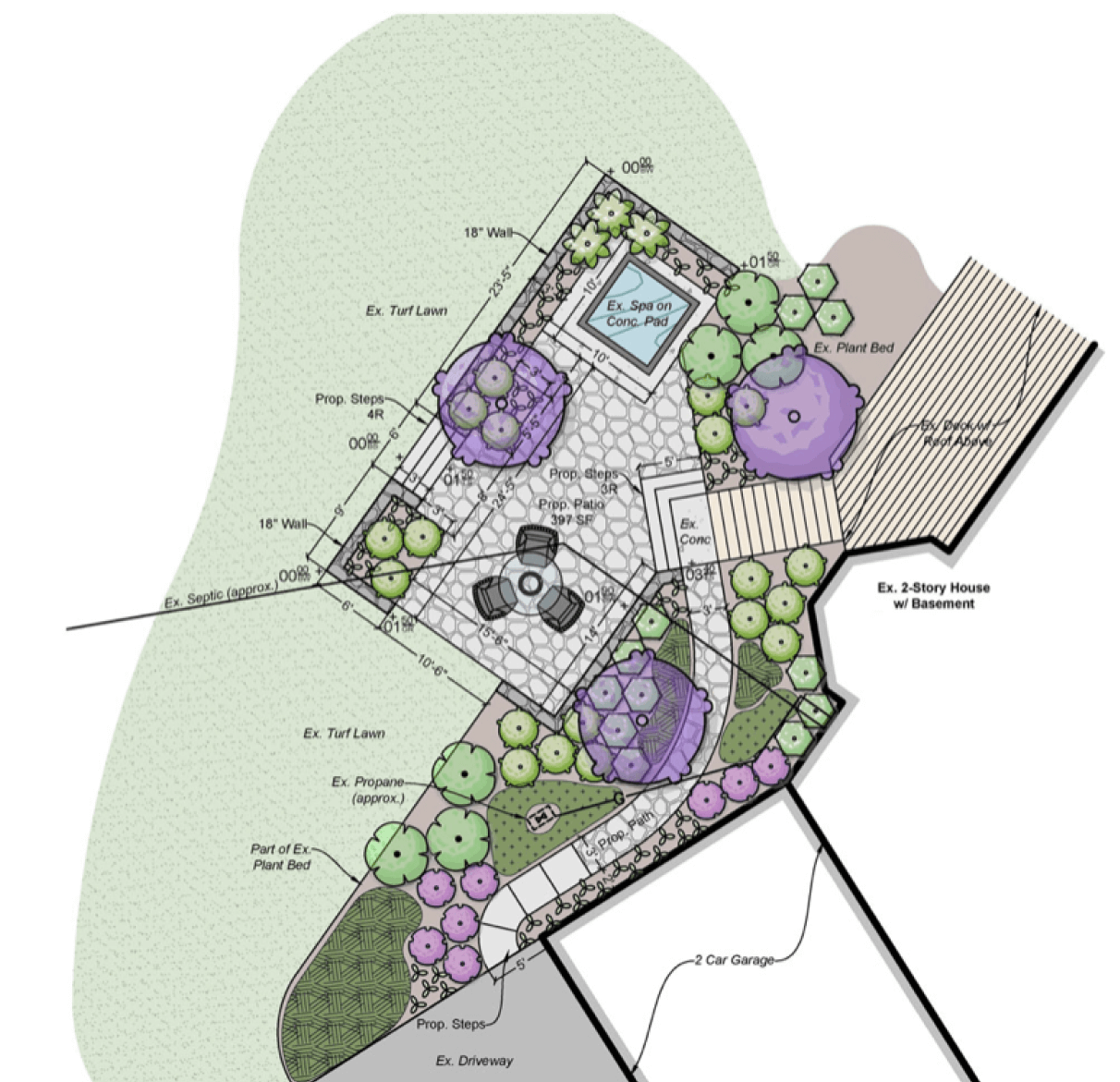 Popular for most front or back yards
Entire Yard up to 1 Acre Included
Popular for
most whole propeties
all phases of landscaping
all phases of landscaping
We draw inspiration from nature
Well done landscape design can add a considerable amount
of value to your property, not to mention, increase the aesthetic appeal,
and provide a great first impression on guests or potential customers.

Our landscape designers can completely transform the look and feel
of your home. By adding lush flowers, magnificent trees, and innovative,
customized designs, we can create your dream front or backyard oasis.

We offer a wide variety of landscaping services including
(but not limited to):
Our mission is to create beautiful landscapes based on our client's unique visions, to better reflect their sense of style and increase their families enjoyment from their outdoor spaces.
Speak with a landscape expert

"We really wanted to build an outdoor space that set our clients
up for doing what they love to do most with their family; entertaining
and unwinding in the backyard together.
One of the signature spaces is the stone fireplace, where they enjoy the relaxing ambience at night. We love how much our clients really show up in all the details."

"Now I am proud of my backyard. I have so many parties these days and my friends can't stop!"
Your Yard Has More to Offer
Lawn Artists utilizes innovative methods and develops
a design that turns your dreams into reality.
From custom patios and walkways, to walls and custom structures, we have your back! Some of our specialties include:
• Tell us your ideas
• Cost estimate
• Project time frame
Stunning

Landscape Design
Increases Curb Appeal & Home Value
National Association of Realtor data shows that quality landscape designs increase curb appeal as well as home value. This means your home gets more attention and can sell much quicker – plus, demands a higher sales price!

Landscape design typically adds 8-12% to home value according to National Association of Realtor data.

Reduce your out of pocket cost with financing. Our bank is ready to get you approved quickly.
Why work with
Lawn Artists?
We treat our clients
like family
Knowledge to get the job done
A team that your family can trust
Award-winning
landscape designs
Here you'll find a compilation of the
most frequently asked
questions
. If there's something you want to know which isn't here, please send an email to
support@lawnartists.com!
HOW MUCH DOES LANDSCAPE DESIGN COST?
The cost is determined by many factors such as the type of project, the entire scope, and the materials you choose. If you want a more exact quote for your project
Click here.
HOW LONG DOES THE INSTALLATION PROCESS TAKE?
Most landscaping projects take between two and four weeks. It's a great idea to plan a family vacation during your project. This way your family has fun relaxing together, and returns to a brand new landscape.
I'M ON A TIGHT BUDGET, IS LANDSCAPE WORTH IT?
Your home is your families retreat from the stresses of the outside world.
Most families spend over 100 hours per week at home, so it's a worthwhile investment. Furthermore, we can make design suggestions so you get the most of out every dollar, as well as offering low-cost financing options.
CAN YOU HELP WITH DESIGN & PLANNING?
Many homeowners we work with have a vision, but are lost as what is possible from a design perspective. Our expert design team can help you visualize what is possible, as well as understand the costs and time frame involved. Click here to schedule your free consultation.
Our Reputation Speaks for Itself
Read what our happy customers are saying about their experience of working with us.
"Matt transformed our yard front and back..."
Matt transformed our yard front and back 2 years ago. We have beautiful walls, walkways and a new pool patio with pavers. We have lighting front and back as well. I have a beautiful yard thanks to Lawn Artists. We have been very happy and Matt has always been very responsive to any question or concerns we have had. I would highly recommend his company.
"Lawn Artists did a wonderful job..."
Matt and Lawn Artists did a wonderful job in my yard, cleaning out flowers beds, trimming trees. Matt developed a plan and discussed it with me and kept me informed as to the progress of the work. The guys who came to do the work were courteous, pleasant, knowledgeable, checked to be sure I was pleased with the work. The idea Matt had for an area for my bench using paving stones is my favorite spot. Thanks for an excellent job!
"Highly professional lawn care company.."
Lawn Artists is a highly professional lawn care company. I love my new walkway and their crew did a fantastic spring cleanup! They were very courteous, respectful, knowledgeable and affordable. I will be using their services for all my lawn care and deck projects. I highly recommend them to anyone seeking a professional lawn care company.
"I can't say enough good things.."
I can't say enough good things about Matt and his company, Lawn Artists. I am a repeat customer and I have been so impressed with the quality of their work. They are professional, skilled, reasonably priced, and Matt is always able to translate my vague ideas into a very polished work of art. I highly recommend this company.
Submit Your request for
a discount Below